MSBELLO at your Service
It pays to co-operate !
Welcome to the official website of Muhammed Sulaiman Bello (MSB) where you get to interact with him, read previews of his lectures, books and presentations, his itinerary and visit his virtual classrooms...
His students take online lectures here and write their CAT (continuous assessment tests) and examinations.
...also, get to know about.....
*Executive Cybercollege
*Co-operative & Labour Education Research Centre (CLERC)
*CMBO -Co-operative Management By Objectives
*Co-opentrepreneurship
*his 36 WIVES.......and lots more....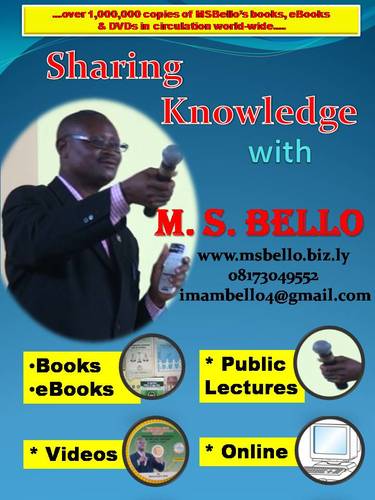 As at date,I had delivered over 2,000 lectures & presentations in my various areas of interest.... I shall be bringing this experience into your training programme when required...